A $100 tax-deductible donation enables the purchase and installation of trees in ReLeaf's annual planting program.
A single Commemorative Tree may honor or memorialize one person or a couple.
Names of those honored or memorialized are displayed on a plaque in the Washington Street Lobby of the Municipal Building in downtown Greenville.
Please include the name of the person you wish to be remembered or honored in the box to the right.
Indicate whether the tree is to be planted in honor or memory of the person, and whether and how you wish to be acknowledged on the plaque.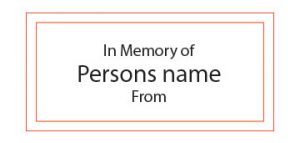 Example of a standard plaque