Thank You Lakeforest Elementary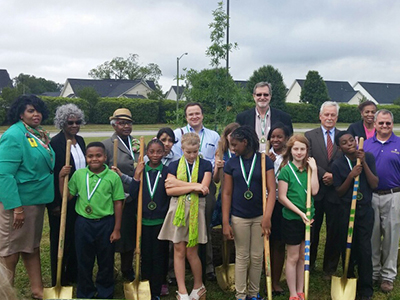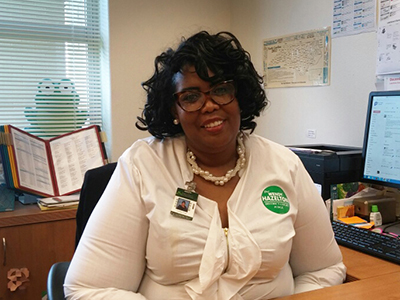 As you might expect for an organization such as ReLeaf, a highlight of our year is Arbor Day. Each year we select an elementary school to celebrate with. Last April, it was Lakeforest Elementary, where we received such a warm welcome, that we just have to tell you about it once again.
The kids (and the Arbor Day essays they had written) were inspiring, the teaching staff responsive, and Principal Lavette Ford was gracious and welcoming. To cap it off, we received a surprise gift from the Iota Kappa Omega chapter of Alpha Kappa Alpha, of which Mrs. Ford is a member.
ReLeaf appreciates all our supporters, but it particularly gratifying to receive recognition from a fellow civic organization. There's strength in our alliances and in working together toward common goals. One of AKA and the IKO Chapter's target missions is "Environmental Ownership". In this service sector the sorority implements "high impact programs to provide healthy environments and improve the quality of life in underserved communities." They promote sustainability by encouraging recycling and litter prevention. They also support healthy lifestyle for local children with safe and inviting play spaces.
Iota Kappa Omega Chapter members provide a wide range of service to our community and model this as a lifelong mission – inspiring the same in the young women of AKA whom they mentor. ReLeaf shares in this hope for the younger generation. It's a hope that we reaffirm every Arbor Day.
As the proverb says- "We plant a tree today so that future generations may sit in its shade".
Last week we paid a visit to Principal Ford and the tree we planted with the students in April. She shared with us her passion for nurturing the children who are in her charge. Through the joint effort with ReLeaf, Mrs. Ford said her interest was two-fold – that the kids might "learn to take part in service to the community through 'project-based learning'" and to encourage communication skills in this technology-focused era. "In this world we live in, children must be able to express their thoughts".
…We are grateful that the kids of Lakeforest shared theirs with us.
The little oak is doing well, and we hope the children will see it as a reminder that they can help create a better place for those who come after them.
As students return to class in the next few weeks, we wish them much success. May you be firmly rooted as a mighty oak, as you reach for the sky.